Here are funding opportunities for young researchers, practitioners, artists, students, and entrepreneurs as part of the Creative Impact Research Centre Europe (CIRCE). The available two programs support creative and innovative approaches to solving society's most pressing challenges.
With the fellowship program, CIRCE wants to bring together young researchers and creatives from all over Europe in order to highlight, question and reshape the innovative power of the creative economies through a wide range of voices and perspectives. Based on the potentials of the cultural and creative economies, the fellows explore and test new ways and creative solutions for dealing with the challenges of our time.
A total of 40 fellowships will be awarded for a period of six months. The fellows get a monthly grant of 3,800 euros as well as support by a mentor from CIRCE.
More information is here.
Creative Impact Fund
With the Creative Impact Fund, CIRCE supports the implementation or further development of project ideas that work on innovative solutions to the major issues and challenges of the present and future.
In total, the Creative Impact Fund will fund 13 entrepreneurial innovation projects, including five projects whose solution approaches are field-tested and ready for the next development step (max. 200,000 euros each), and eight project ideas that aim to achieve a proof-of-concept (max. 50,000 euros each).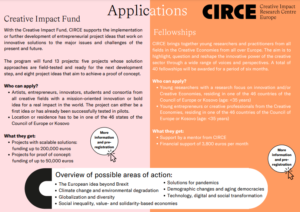 You can find more information on the funding opportunities in the attachment and on the CIRCE website.
Pre-registration is required until February 28th, 2023.
The application phases for both the fellowships and the fund start on March 1, 2023. 
CONTACT:
Creative Impact Research Centre Europe (CIRCE)
u-institut GmbH & Co. KG
Jägerstraße 65
10117 Berlin
E info@creativeimpact.eu