Movie, Video, Photo
Azerbaijan Creative Industries Federation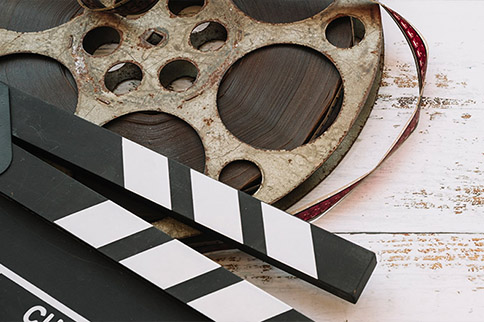 Cinematography (from ancient greek κίνημα, kìnema "movement" and γράφειν, gràphein "to write") is the art of motion-picture photography and filming either electronically by means of an image sensor, or chemically by means of a light-sensitive material such as film stock.
Cinematographers use a lens to focus reflected light from objects into a real image that is transferred to some image sensor or light-sensitive material inside a movie camera. These exposures are created sequentially and preserved for later processing and viewing as a motion picture. Capturing images with an electronic image sensor produces an electrical charge for each pixel in the image, which is electronically processed and stored in a video file for subsequent processing or display. Images captured with photographic emulsion result in a series of invisible latent images on the film stock, which are chemically "developed" into a visible image. The images on the film stock are projected for viewing the motion picture.
Cinematography finds uses in many fields of science and business as well as for entertainment purposes and mass communication.
Film cinematography
The experimental film Roundhay Garden Scene, filmed by Louis Le Prince on October 14th, 1888 in Roundhay, Leeds, England, is the earliest surviving motion picture. This movie was shot on paper film.
W. K. L. Dickson, working under the direction of Thomas Alva Edison, was the first to design a successful apparatus, the Kinetograph, patented in 1891. This camera took a series of instantaneous photographs on standard Eastman Kodak photographic emulsion coated onto a transparent celluloid strip 35 mm wide. The results of this work were first shown in public in 1893, using the viewing apparatus also designed by Dickson, the Kinetoscope. Contained within a large box, only one person at a time looking into it through a peephole could view the movie.
In the following year, Charles Francis Jenkins and his projector, the Phantoscope, made a successful audience viewing while Louis and Auguste Lumière perfected the Cinématographe, an apparatus that took, printed, and projected film, in Paris in December 1895. The Lumière brothers were the first to present projected, moving, photographic, pictures to a paying audience of more than one person.
In 1896, movie theaters were open in France (Paris, Lyon, Bordeaux, Nice, Marseille); Italy (Rome, Milan, Naples, Genoa, Venice, Bologna, Forlì); Brussels; and London. The chronological improvements in the medium may be listed concisely. In 1896, Edison showed his improved Vitascope projector, the first commercially successful projector in the U.S. Cooper Hewitt invented mercury lamps which made it practical to shoot films indoors without sunlight in 1905. The first animated cartoon was produced in 1906. Credits began to appear at the beginning of motion pictures in 1911. The Bell and Howell 2709 movie camera invented in 1915 allowed directors to make close-ups without physically moving the camera. By the late 1920s, most of the movies produced were sound films. Wide screen formats were first experimented with in the 1950s. By the 1970s, most movies were color films. IMAX and other 70mm formats gained popularity. Wide distribution of films became commonplace, setting the ground for "blockbusters." Film cinematography dominated the motion picture industry from its inception until the 2010s when digital cinematography became dominant. Film cinematography is still used by some directors, especially in specific applications or out of fondness of the format.
Black and white
From its birth in the 1880s, movies were predominantly monochrome. Contrary to popular belief, monochrome doesn't always mean black and white; it means a movie shot in a single tone or color. Since the cost of tinted film bases was substantially higher, most movies were produced in black and white monochrome. Even with the advent of early color experiments, the greater expense of color meant films were mostly made in black and white until the 1950s, when cheaper color processes were introduced, and in some years the percentage of films shot on color film surpassed 51%. By the 1960s, color became by far the dominant film stock. In the coming decades, the usage of color film greatly increased while monochrome films became scarce.
Color
After the advent of motion pictures, a tremendous amount of energy was invested in the production of photography in natural color. The invention of the talking picture further increased the demand for the use of color photography. However, in comparison to other technological advances of the time, the arrival of color photography was a relatively slow process.
Early movies were not actually color movies since they were shot monochrome and hand-colored or machine-colored afterwards. (Such movies are referred to as colored and not color.) The earliest such example is the hand-tinted Annabelle Serpentine Dance in 1895 by Edison Manufacturing Company. Machine-based tinting later became popular. Tinting continued until the advent of natural color cinematography in the 1910s. Many black and white movies have been colorized recently using digital tinting. This includes footage shot from both world wars, sporting events and political propaganda.
In 1902, Edward Raymond Turner produced the first films with a natural color process rather than using colorization techniques. In 1908, kinemacolor was introduced. In the same year, the short film A Visit to the Seaside became the first natural color movie to be publicly presented.
In 1917, the earliest version of Technicolor was introduced. Kodachrome was introduced in 1935. Eastmancolor was introduced in 1950 and became the color standard for the rest of the century.
In the 2010s, color films were largely superseded by color digital cinematography.
Digital cinematography
In digital cinematography, the movie is shot on digital media such as flash storage, as well as distributed through a digital medium such as a hard drive.
The basis for digital cameras are metal-oxide-semiconductor (MOS) image sensors. The first practical semiconductor image sensor was the charge-coupled device (CCD), based on MOS capacitor technology. Following the commercialization of CCD sensors during the late 1970s to early 1980s, the entertainment industry slowly began transitioning to digital imaging and digital video over the next two decades. The CCD was followed by the CMOS active-pixel sensor (CMOS sensor), developed in the 1990s.
Beginning in the late 1980s, Sony began marketing the concept of "electronic cinematography," utilizing its analog Sony HDVS professional video cameras. The effort met with very little success. However, this led to one of the earliest digitally shot feature movies, Julia and Julia (1987). In 1998, with the introduction of HDCAM recorders and 1920×1080 pixel digital professional video cameras based on CCD technology, the idea, now re-branded as "digital cinematography," began to gain traction.
Shot and released in 1998, The Last Broadcast is believed by some to be the first feature-length video shot and edited entirely on consumer-level digital equipment. In May 1999, George Lucas challenged the supremacy of the movie-making medium of film for the first time by including footage filmed with high-definition digital cameras in Star Wars: Episode I – The Phantom Menace. In late 2013, Paramount became the first major studio to distribute movies to theaters in digital format, eliminating 35mm film entirely. Since then the demand of movies to be developed onto digital format rather than 35mm has increased drastically.
As digital technology improved, movie studios began increasingly shifting towards digital cinematography. Since the 2010s, digital cinematography has become the dominant form of cinematography after largely superseding film cinematography.
According to the last global study report within the project carried out by Ernst Young, commissioned by CISAC (the International Confederation of Authors and Composers Societies) with the aim of analyzing the cultural and creative markets in the world, in 2013, movies worldwide generated revenues of US$77 billion and employed 2,48 million people.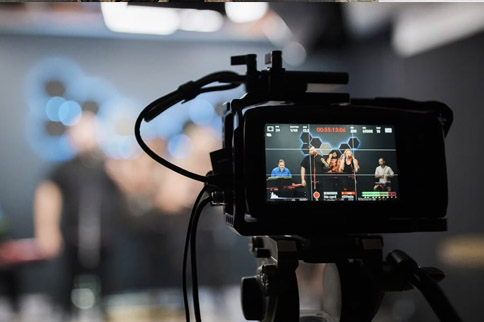 Videography refers to the process of capturing moving images on electronic media (e.g., videotape, direct to disk recording, or solid state storage) and even streaming media. The term includes methods of video production and post-production. It is considered the video equivalent of cinematography (moving images recorded on film stock). The advent of digital video recording in the late 20th century blurred the distinction between videography and cinematography, as in both methods the intermittent mechanism became the same. Nowadays, any video work outside commercial motion picture production could be called videography. A videographer is a person who works in the field of videography and/or video production. News broadcasting relies heavily on live television where videographers engage in electronic news gathering (ENG) of local news stories.
Uses
The arrival of computers and the Internet in the 1980s created a global environment where videography covered many more fields than just shooting video with a camera, including digital animation (such as Flash), gaming, web streaming, video blogging, still slideshows, remote sensing, spatial imaging, medical imaging, security camera imaging, and in general the production of most bitmap and vector based assets. As the field progresses, videographers may produce their assets entirely on a computer without ever involving an imaging device, using software-driven solutions. Moreover, the very concept of sociability and privacy are being reformed by the proliferation of cell phone, surveillance video, or Action-cameras, which are spreading at an exceptional rate globally.
Videography in social science
In social sciences, videography also refers to a specific research method of video analysis, that combines ethnography with the recording of sequences of interaction that are analysed in details with methods developed on the basis of conversation analysis. One of the best known application is in workplace studies.
Videographers
On a set, in a television studio, the videographer is usually a camera operator of a professional video camera, sound, and lighting. As part of a typical electronic field production (EFP) television crew, videographers usually work with a television producer. However, for smaller productions (e.g. corporate and event videography), a videographer often works alone with a single-camera setup or in the case of a multiple-camera setup, as part of a larger television crew with lighting technician, grips and sound operators.
Typically, videographers are distinguished from cinematographers in that they use digital hard-drive, flash cards or tape drive video cameras vs. 70mm IMAX, 35mm, 16mm or Super 8mm mechanical film cameras. Videographers manage smaller, event scale productions (commercials, documentaries, legal depositions, live events, short films, training videos, weddings), differing from individualized large production team members. The advent of high definition digital video cameras, however, has blurred this distinction.
Videographers maintain and operate a variety of video camera equipment, sound recording devices, edit footage, and stay up to date with technological advances. With modern video camcorders, professional studio quality videos can be produced at low cost rivaling large studios. Many major studios have stopped using film as a medium due to linear-editing devices no longer being made and the availability for amateurs to produce acceptable videos using DSLRs (Digital single-lens reflex camera). Videographers use non-linear editing software on home computers.
A videographer may be the actual camera operator or they may be the person in charge of the visual design of a production (the latter being the equivalent of a cinematographer).
The growth of the video production industry over the year has been notable in fact just from 2014 to 2018 it almost doubled its annual revenue to 286 billion dollars, according to Statista. Many predict that the video production market will continue to grow within the next few years as online video consumption increasing and video marketing has become the most effective way to communicate with customers.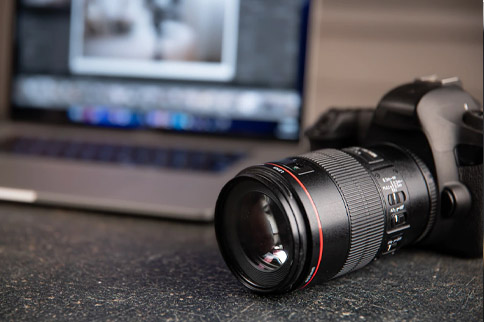 Photography is the art, application and practice of creating durable images by recording light or other electromagnetic radiation, either electronically by means of an image sensor, or chemically by means of a light-sensitive material such as photographic film. It is employed in many fields of science, manufacturing (e.g., photolithography), and business, as well as its more direct uses for art, film and video production, recreational purposes, hobby, and mass communication.
Typically, a lens is used to focus the light reflected or emitted from objects into a real image on the light-sensitive surface inside a camera during a timed exposure. With an electronic image sensor, this produces an electrical charge at each pixel, which is electronically processed and stored in a digital image file for subsequent display or processing. The result with photographic emulsion is an invisible latent image, which is later chemically "developed" into a visible image, either negative or positive depending on the purpose of the photographic material and the method of processing. A negative image on film is traditionally used to photographically create a positive image on a paper base, known as a print, either by using an enlarger or by contact printing.
Types of photography
Amateur
An amateur photographer is one who practices photography as a hobby/passion and not necessarily for profit. The quality of some amateur work is comparable to that of many professionals and may be highly specialized or eclectic in choice of subjects. Amateur photography is often pre-eminent in photographic subjects which have little prospect of commercial use or reward. Amateur photography grew during the late 19th century due to the popularization of the hand-held camera. Nowadays it has spread widely through social media and is carried out throughout different platforms and equipment, switching to the use of cell phone. Good pictures can now be taken with a cell phone, which is a key tool for making photography more accessible to everyone.
Commercial
Commercial photography is probably best defined as any photography for which the photographer is paid for images rather than works of art. In this light, money could be paid for the subject of the photograph or the photograph itself. Wholesale, retail, and professional uses of photography would fall under this definition. The commercial photographic world could include:
Photojournalism
Photojournalism is a particular form of photography (the collecting, editing, and presenting of news material for publication or broadcast) that employs images in order to tell a news story. It is now usually understood to refer only to still images, but in some cases the term also refers to video used in broadcast journalism. Photojournalism is distinguished from other close branches of photography (e.g., documentary photography, social documentary photography, street photography or celebrity photography) by complying with a rigid ethical framework, which demands that the work be both honest and impartial whilst telling the story in strictly journalistic terms. Photojournalists create pictures that contribute to the news media, and help communities connect with one other. Photojournalists must be well informed and knowledgeable about events happening right outside their door. They deliver news in a creative format that is not only informative, but also entertaining.
As per the analysts at Zion Market Research, the global demand for digital photography market was capitalized at almost USD 77.66 Billion in 2015 and is likely to cross almost USD 110.79 Billion in 2021, developing at a CAGR of slightly more than 6.1% from 2016 to 2021.