Games, Creative Technologies
Azerbaijan Creative Industries Federation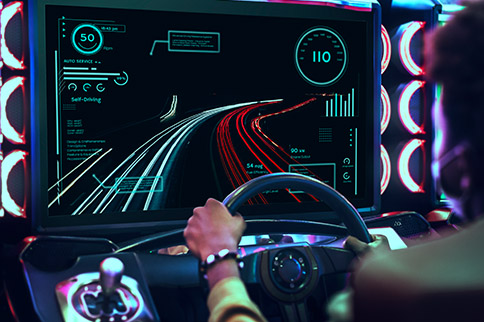 A video game is an electronic game that involves interaction with a user interface to generate visual feedback on a two- or three-dimensional video display device such as a touchscreen, virtual reality headset or monitor/TV set. Since the 1980s, video games have become an increasingly important part of the entertainment industry, and whether they are also a form of art is a matter of dispute.
The electronic systems used to play video games are called platforms. Video games are developed and released for one or several platforms and may not be available on others. Specialized platforms such as arcade games, which present the game in a large, typically coin-operated chassis, were common in the 1980s in video arcades, but declined in popularity as other, more affordable platforms became available. These include dedicated devices such as video game consoles, as well as general-purpose computers like a laptop, desktop or handheld computing devices.
The input device used for games, the game controller, varies across platforms. Common controllers include gamepads, joysticks, mouse devices, keyboards, the touchscreens of mobile devices, or even a person's body, using a Kinect sensor. Players view the game on a display device such as a television or computer monitor or sometimes on virtual reality head-mounted display goggles. There are often game sound effects, music and voice actor lines which come from loudspeakers or headphones. Some games in the 2000s include haptic, vibration-creating effects, force feedback peripherals and virtual reality headsets.
Since the 2010s, the commercial importance of the video game industry has been increasing. The emerging Asian markets and mobile games on smartphones in particular are driving the growth of the industry. As of 2018, video games generated sales of US$134.9 billion annually worldwide, and were the third-largest segment in the U.S. entertainment market, behind broadcast and cable TV.
According to the last global study report within the project carried out by Ernst Young in 2015, commissioned by CISAC (the International Confederation of Authors and Composers Societies) with the aim of analyzing the cultural and creative markets in the world, Games industry worldwide generated revenues of US$99 billion and employed 605.000 people.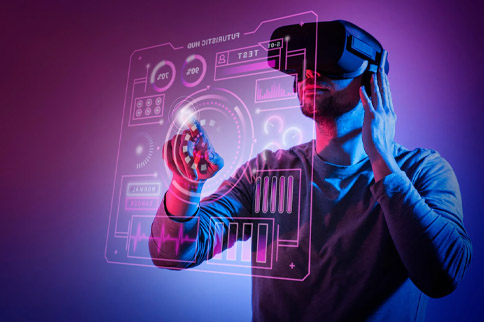 Creative technology is a broadly interdisciplinary and transdisciplinary field combining computing, design, art and the humanities. The field of creative technology encompasses art, digital product design, digital media or an advertising and media made with a software-based, electronic and/or data-driven engine. Examples of creative technology include multi-sensory experiences made using computer graphics, video production, digital cinematography, virtual reality, augmented reality, video editing, software engineering, 3D printing, the Internet of Things, CAD/CAM and wearable technology.
In the artistic field, new media art and internet art are examples of work being done using creative technology. Performances, interactive installations and other immersive experiences take museum-going to the next level and may serve as research processes for humans' artistic and emotional integration with machines. Some believe that "creativity has the potential to be revolutionised with technology", or view the field of creative technology as helping to "disrupt" the way people today interact with computers, and usher in a more integrated, immersive experience.
Digital media, which started ten years ago as "interactive", has evolved since then to experimental marketing. In 2011, leading brands and marketers began to create comprehensive displays to impress their potential customers. With the use of interactive ads and new internet media tools, the prolific content creators have sought to use visual technologies to create spectacular exhibitions that will amaze people. Examples of these early activities include visual design and projection (youtube.com/watch?v=EOFuzE42z58) for the Sydney Opera House by Obscura Digital Creative Studio, and projects for the Audi A1 model of Radugadesign (youtube.com/watch?v=x4sVTUAdoLg).
In 2015, the term "creative technology" became popular in advertising societies. The emerging technologies (motion sensors, virtual reality headsets, smart technologies, etc.) created new opportunities for companies to connect with their audiences. Comprehensive and multi-dimensional content is still alive, although content creators have more intelligent tools and operational capabilities to communicate directly with external audiences.